The Oscars
SUNDAY: Jimmy Kimmel hosts the movie industry's most revered night of celebration from Hollywood's Dolby Theatre, with funky sci-fi action-comedy hybrid Everything Everywhere All at Once poised to win several top awards, including Best Picture and Lead Actress, though Michelle Yeoh is in a tight contest against two-time winner Cate Blanchett of Tár. Among the entertainment highlights, Rihanna performs "Lift Me Up" from Black Panther: Wakanda Forever, Lenny Kravitz headlines the "In Memoriam" segment, and look for the audience to get out of their seats when RRR's rousing "Naatu Naatu" hits the stage. But can anything halt the awards show's ratings slide? In a sign of the times, there's an unusual amount of original programming airing Sunday night, when in the past rival networks would go dark against the one-time behemoth.
The Last of Us
SUNDAY: Likely to steal some of Oscar's remaining thunder, the hit post-apocalyptic thriller reaches its destination in the season finale. But it's hardly the end of the road for Joel (Pedro Pascal) and his human cargo, Ellie (Bella Ramsey), to whom he's forged as strong a protective connection as that between The Mandalorian (Pascal's other big TV role) and Grogu "Baby Yoda." HBO has, no surprise, renewed The Last of Us for a second season, and we already can't wait.
A Spy Among Friends
SUNDAY: Billions' Damian Lewis and Guy Pearce (Mare of Easttown) are well cast in an absorbingly cerebral six-part docudrama hinging on one of the greatest spy scandals of the 20th century. Pearce is the charming Kim Philby, who shocks the nation—and on a more personal level, his best friend, fellow intelligence agent Nicholas Elliott (Lewis)—when he's exposed as a double-agent for the Soviet Union in the early 1960s. Flashbacks depict their friendship, which began some 20 years earlier during WWII, while the meat of the drama involves their fateful meeting in Beirut, from where Philby defected, casting suspicion on Elliott's possible role in aiding the escape. This is a John le Carré story played out on the actual world stage.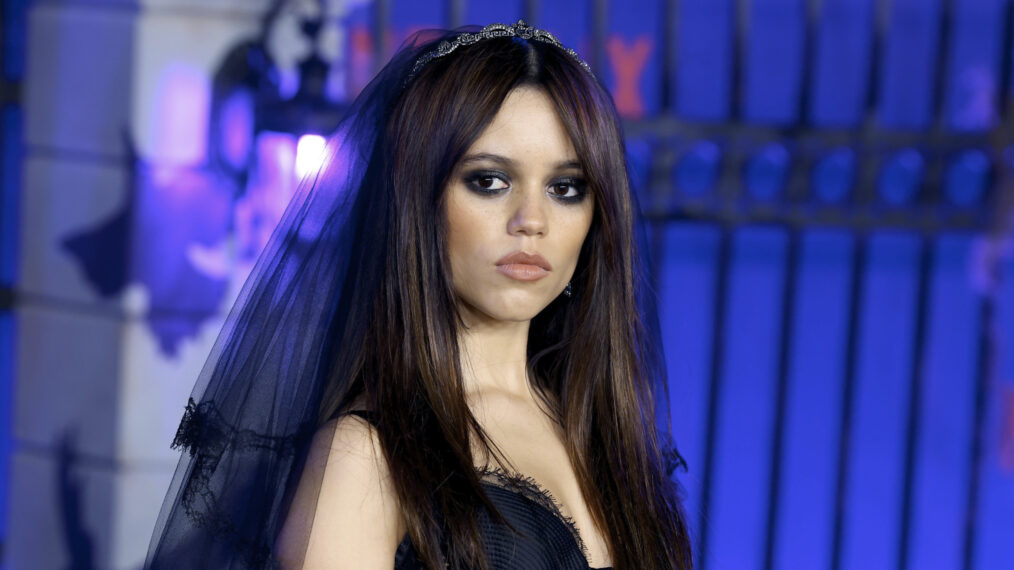 Saturday Night Live
SATURDAY: As Wednesday Addams, her spastic prom dance was a viral sensation. She's currently packing them in movie theaters as one of the heroines in the rebooted Scream VI franchise. With that kind of pop-cultural buzz, it was only a matter of time before Jenna Ortega would be tapped as guest host for the sketch-comedy showcase. Musical guest is The 1975, making their second appearance.
INSIDE WEEKEND TV:
Game of Love (Saturday, 8/7c, Hallmark Channel): Anyone remember the Mystery Date board game? Kimberley Sustad and Brooks Darnell star as a game designer and marketing consultant tasked with inventing a new romance-driven board game. Guess what happens next?
Girl in the Closet (Saturday, 8/7c, Lifetime): Remy Ma is a mom whose health crisis results in her daughter (Brielle Oliver and Daljah Peters at different ages) being placed in the custody of an aunt (Tami Roman) who's a convicted murderer and who subjects the girl to more than a decade of deprivation and abuse.
48 Hours (Saturday, 10/9c, CBS): In "What Angelina Saw," correspondent Peter Van Sant interviews Angelina Fernandes and her mother Stephanie, who was charged with murdering her fiancé Andrew Wagner during a domestic dispute when Angelina was just 11.
NCAA Selection Show (Sunday, 6 pm/ET, CBS): Start filling out your brackets, as the men's NCAA basketball field is announced, with Greg Gumbel hosting. The women's bracket and field is announced at 8 pm/ET on ESPN.
The Simpsons (Sunday, 8/7c, Fox): Kicking off an all-new night of animation, The Simpsons gets topical when Milhouse's dad objects to the way history is being taught at Springfield Elementary and goes on a crusade to censor the curriculum. (Is Springfield in Florida now?)
The Equalizer (Sunday, 8/7c, CBS): Also tackling a timely issue, the action drama finds Harry (Adam Goldberg) exploring his Jewish faith in the wake of anti-Semitic hate crimes.
Magnum P.I. (Sunday, 9/8c, NBC): The Hawaii-set procedural feels a bit more like All Creatures Great and Small when Rick (Zachary Knighton) turns to TC (Stephen Hill) to help find Magnum's (Jay Hernandez) missing pet mouse, while Higgins (Perdita Weeks) enlists Kumu (Amy Hill) to solve the murder of a dog. Elsewhere, Magnum seeks Katsumoto's (Tim Kang) help in finding a lost tourist.
Alien Abduction: Travis Walton (Sunday, 9/8c, Travel Channel): A two-hour Shock Docs special investigates the alleged 1975 alien abduction of Arizona logger Travis Walton, which later became the basis of the 1993 film Fire in the Sky.
The Idaho College Murders (Sunday, 10/9c, Investigation Discovery): True-crime channel favorites Alina Burroughs (Crime Scene Confidential) and Anna-Sigga Nicolazzi (True Conviction) bring expert perspective to their analysis of the November 2022 murders of four University of Idaho students and the arrest of PhD student Bryan Kohberger.
Naked and Afraid: Solo (Sunday, 10/9c, Discovery): It's hard enough to endure this survival series when you have company. In the latest spinoff, eight past participants shed their clothes again and try to make it for 21 days on their own, in rugged conditions in South America, Africa and Mexico.