Luther: The Fallen Sun
After five dark seasons (the last in 2019), TV's most tormented detective, London's John Luther (Idris Elba in his star-making role), is back in a feature film that may be his most brutal descent into horror yet. We meet Luther at his lowest, as he's sent to prison for his many bend-the-law transgressions, but that's a walk in the park compared to his dealings with a sadistic serial killer (Lord of the Rings' Andy Serkis) who taunts the disgraced cop so mercilessly that Luther engineers an escape and pursues this fiend while the cops (including Cynthia Erivo as his replacement on the force) chase Luther. As before, Luther gives as good as he gets, and he may be matched only by 24's Jack Bauer in his ability to keep ticking after taking lickings. The climax is about as terrifying as you'll find in a procedural, so be warned. It's not for the squeamish.
Unprisoned
Kerry Washington shines in a dramedy from award-winning TV writer and relationship expert Tracy McMillan, who based the series on incidents in her own life. Washington is Paige, a single mom with a social-media platform whose life gets messier when her career-criminal father Edwin (The Good Fight's great Delroy Lindo) is released from prison and moves in with her and her teenage son (Faly Rakotohavana). Theirs is a fraught relationship, but as Edwin tries to go straight and reconnect with his family, the setbacks and triumphs feel real and earned. All eight episodes are available for binge-watching.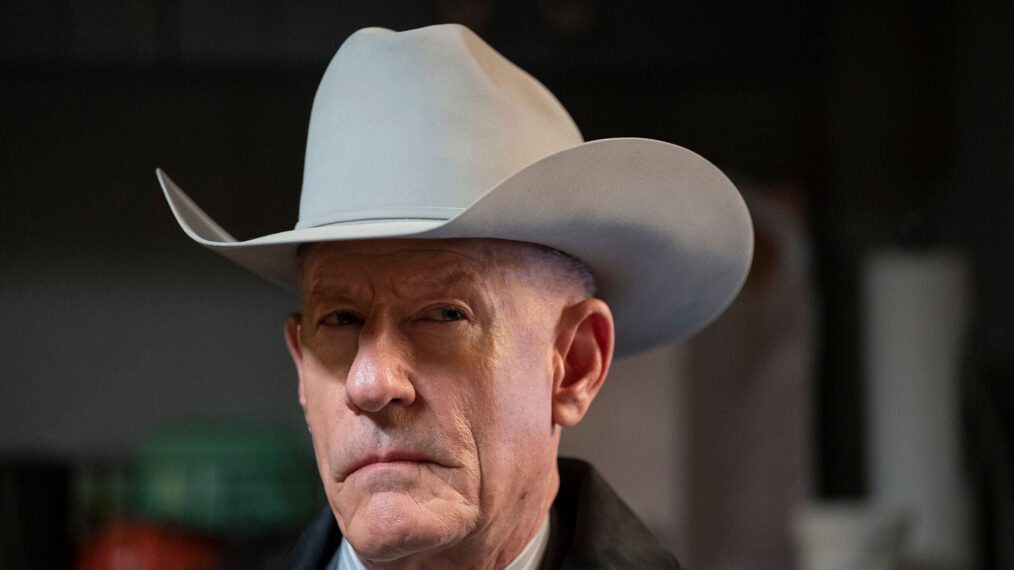 Blue Bloods
The New York-based family police drama is always happy to welcome back a friendly face from Texas—namely, Lyle Lovett, making a return appearance as Ranger Waylon Gates, who's teamed with Danny (Donnie Wahlberg) to bring a drug cartel boss to arraignment. Things get serious when the thug threatens harm to the Reagan family. There's also some internal family drama when Commissioner Frank (Tom Selleck) denies son Jamie's (Will Estes) request to go undercover.
The New York Times Presents
A real-life Ray Donovan, dirty private-eye/fixer Anthony Pellicano was Hollywood's go-to guy in the 1990s to clean up the misdeeds of the rich, famous and powerful, no matter who got hurt. Using previously never-heard recordings, this two-part documentary special reveals Pellicano's ruthless methods, which would lead to him serving 15 years in prison on wiretapping and racketeering charges. Sin Eater digs even deeper to explore why those who hired Pellicano also didn't go down.
INSIDE FRIDAY TV:
RuPaul's Drag Race (8/7c, MTV): Comedian Ali Wong is the appropriate guest judge when the remaining queens try their glittery hand at stand-up comedy.
Kiff (8/7c, Disney Channel): Here's one for the kids. Orange Is the New Black's Kimiko Glenn provides the voice in this animated buddy comedy as Kiff, an upbeat squirrel who finds adventure with her bunny buddy Barry (H Michael Croner).
True Crime Watch: ABC's 20/20 (9/8c) reports on the 1998 murder in Arlington, Va., of Andrea Cincotta, found dead by her fiancé, who was tried but found not guilty (to Andrea's son's dismay) of hiring the hit man who went to jail for the crime. On Dateline NBC (9/8c), Keith Morrison reports on the investigation into the 2018 kidnapping-murder of Colorado mother Rita Gutierrez-Garcia, which led authorities to a previous assault victim who tells her story on TV for the first time.
Party Down (9/8c, Starz): Beggars can't be choosers, but when the hapless catering company Party Down books an event with a politically volatile group, the blowback leaves everyone with a sour aftertaste.
ON THE STREAM:
Puss in Boots: The Last Wish (streaming on Peacock): Just in time for Oscar weekend, the latest Puss in Boots film (nominated for Best Animated Feature) arrives on streaming.
Women Talking (streaming on Prime Video): Sarah Polley's drama, nominated for Best Picture, is available to Prime Video subscribers for no additional cost—but only until Sunday at midnight/11c, 9 pm/PT.
Outlast (streaming on Netflix): A rugged eight-episode survival competition pits 16 lone wolves against each other in the Alaskan wilds with $1 million on the line. The twist: To win, you must be part of a team.
Most Dangerous Game: New York (streaming on The Roku Channel): A second season of the chase thriller, originally developed for the short-lived Quibi service, stars The Umbrella Academy's David Casteñeda (recently seen in Poker Face) as the latest prey, hunted in the concrete jungle of NYC with sinister Christoph Waltz once again pulling the strings. If he survives 24 hours, he'll win a half-million dollars to protect his family.
Miley Cyrus—Endless Summer Vacation: Backyard Sessions (1 pm/ET, streaming on Disney+): The singer/actress performs songs from her latest studio album in a special including interview segments from Frank Sinatra's former L.A. home, where she shot the music video for her hit "Flowers."
Chang Can Dunk (streaming on Disney+): A coming-of-age comedy with a sports twist stars Bloom Li as Chang, a teenage Asian-American band student who bets the school's basketball star he'll be able to dunk by Homecoming, hoping to win over his crush (Zoe Renee) if he succeeds.