The Last of Us
SUNDAY: The video-game origins of this gripping horror series are evident only in scenes of mass carnage, starting with the premiere, when the world goes to hell as humans fall to a mutant fungus virus turning people into monsters. Flash forward 20 years, and rugged survivor Joel (The Mandalorian's Pedro Pascal) is reluctantly yoked to a bratty teen (Game of Thrones' remarkable Bella Ramsey), whose DNA could be the salvation of humanity, on a cross-country tour through a hellscape of ghouls, overlords and violent revolutionaries. (See the full review.)
Godfather of Harlem
SUNDAY: You're not imagining things. Epix has now become MGM+, and for the occasion, one of the channel's more popular dramas returns for a third season of urban conflict. The action picks up in the wake of the 1964 Harlem riots, with drug kingpin Bumpy Johnson (Forest Whitaker) broke after flames consumed his heroin stockpile. In debt to the Italian mob, Bumpy partners with Havana cop-turned-mobster Jose Miguel Battle (Yul Vazquez) to retain control, though his activist pal Malcolm X (now played by Jason Alan Carvell) prompts some soul-searching about the devastating effect of heroin on their community.
Mayor of Kingstown
SUNDAY: Also rebounding from the fallout of a riot is power broker Mike McLusky (Jeremy Renner, recently in the news as he recovers from a serious snowplow injury). The unofficial "mayor" of a Michigan prison town, Mike spends Season 2 of the Taylor Sheridan–Hugh Dillon drama trying to contain the chaos, making a risky deal with Crips gang leader Bunny (Tobi Bamfeta) while seeking Russian-mob prison escapee Milo (Aidan Gillen).
Your Honor
SUNDAY: Hasn't this guy suffered enough? Haven't we? Season 2 of the preposterous New Orleans melodrama picks up with disgraced judge Michael Desiato (Breaking Bad's estimable Bryan Cranston), who's a haggard shell of a man after the accidental shooting death of the son he tried to keep out of jeopardy, at the risk of his own career, through the first season. While gang leader Big Mo (Andrene Ward-Hammond) aims to avert a war with crime-family boss Jimmy Baxter (Michael Stuhlbarg) in the shooting's aftermath, Michael wrangles with a new federal prosecutor in town (Rosie Perez, bringing some spunky energy to all the gloom).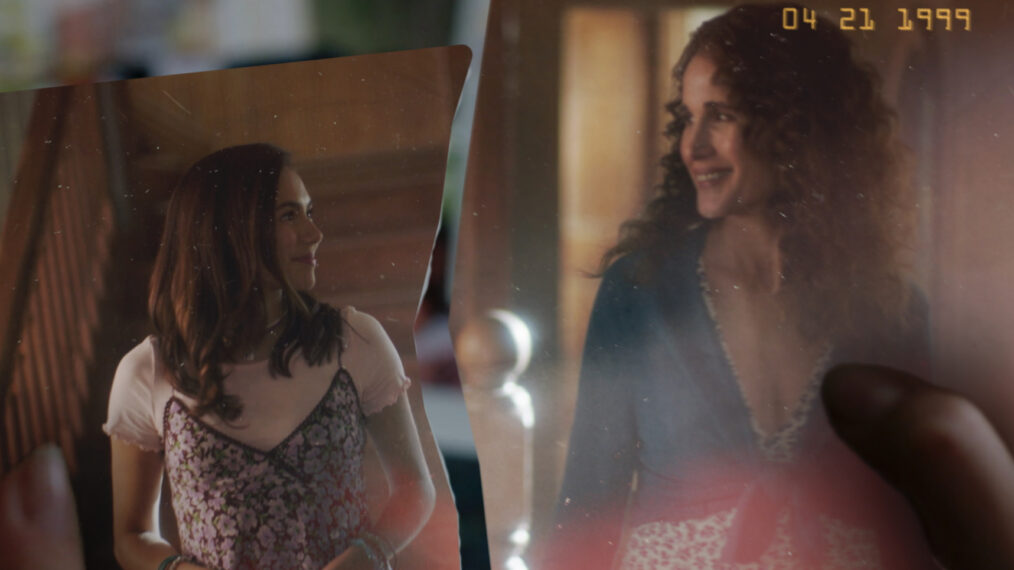 The Way Home
SUNDAY: A rare ray of uplift amid Sunday's surge of dark doings, this multigenerational family drama stars channel favorite Andie McDowell as Del, who oversees an uneasy reunion when she welcomes back to her Canada farm her daughter Kat (Grey's Anatomy alum Chyler Leigh) after a 20-year estrangement. Kat brings along her willful teenage daughter Alice (Sadie Laflamme-Snow), who's not especially eager to relocate to rural Port Haven. How they all learn to get along provides the drama.
All Creatures Great and Small
SUNDAY: While James (Nicholas Ralph) and Helen (Rachel Shenton) adjust to married life in the cramped bed-sit atop the veterinary practice, it's a much harder adjustment for boss man Siegfried (Samuel West) to accept having a business partner with his own way of doing things. As usual, conflict resolution involves an animal crisis, this time involving ailing calves on a remote farm.
INSIDE WEEKEND TV:
71st Miss Universe (Saturday, 7 pm/ET, The Roku Channel): In case you were wondering where to find this year's pageant, staged in New Orleans, it's now a streaming show.
Harry: The Interview (Saturday, 8/7c, CBS): Yes, another one, this time an import from Britain's ITV, with journalist Tom Bradby debriefing the Duke of Sussex about the prince's best-selling Spare.
How to Murder Your Husband (Saturday, 8/7c, Lifetime): This most perfectly titled Lifetime movie stars Cybill Shepherd in the fact-based story of a romance-thriller writer—How to Murder Your Husband is one of her essays—who may have done away with her own spouse (Steve Guttenberg).
Navalny (Saturday, 9/8c, CNN): Daniel Roher's acclaimed documentary follows Russian opposition leader Alexey Navalny in the wake of the 2020 assassination attempt, revealing the web of conspiracy within Putin's government.
60 Minutes (Sunday, 7/6c, CBS): Scott Pelley visits the National Ignition Facility, where a recent breakthrough in fusion research could lead to a new source of clean energy. Sharyn Alfonsi travels to Cyprus, where Russian oligarchs under sanction have hidden their fortunes, and Anderson Cooper profiles music producer Rick Rubin.
The 28th Annual Critics Choice Awards (Sunday, 7/6c, The CW): Movies and TV shows are honored, with Chelsea Handler hosting from the Fairmont Central Plaza Hotel in Los Angeles. Special awards go to The Old Man nominee Jeff Bridges (Lifetime Achievement) and Janelle Monáe (the SeeHer Award).
NCIS: LA (Sunday, 9/8c, CBS): It's all in the family when David Paul Olsen—brother of series star Eric Christian Olsen and husband of series star Daniela Ruah—appears as Sam's (LL Cool J) old buddy Tom Olsen, who's being hunted by enemies from his past.
MILF Manor (Sunday, 10/9c, TLC): This is not a 30 Rock parody. Or is it? A new dating series sends mature women (ages 40 to 60) to Mexico to find love among men half their age. Will next season be set in Cougar Canyon?