Chris Rock: Selective Outrage
SATURDAY: In a first for the streamer, Chris Rock delivers a comedy special that will be live-streamed globally. The timing, a week before the Oscars marks the one-year anniversary of the infamous Will Smith slap, is no accident. Rock is expected to address this and other provocative topics from the stage of Baltimore's Hippodrome Theatre. Netflix is making a night of it, counting down to the big event with "The Show Before the Show" at 6:30 pm/ET, hosted from the Sunset Strip's Comedy Store by Ronny Chieng with Arsenio Hall, Leslie Jones and Deon Cole among those in attendance. Once Rock leaves the stage, Netflix returns to the Comedy Store for "The Show After the Show," where fellow Saturday Night Live veterans David Spade and Dana Carvey host the likes of Kareem Abdul-Jabbar and JB Smoove.
The Last of Us
SUNDAY: The monster hit is nearing the end of its first season, with Joel (Pedro Pascal) still ailing and a desperate Ellie (Bella Ramsey) finding new trading partners in a community led by a teacher-turned-preacher who's keeping faith alive after the apocalypse. As is often the case, things aren't quite what they seem, and our heroes may need to say a special prayer to survive this latest encounter.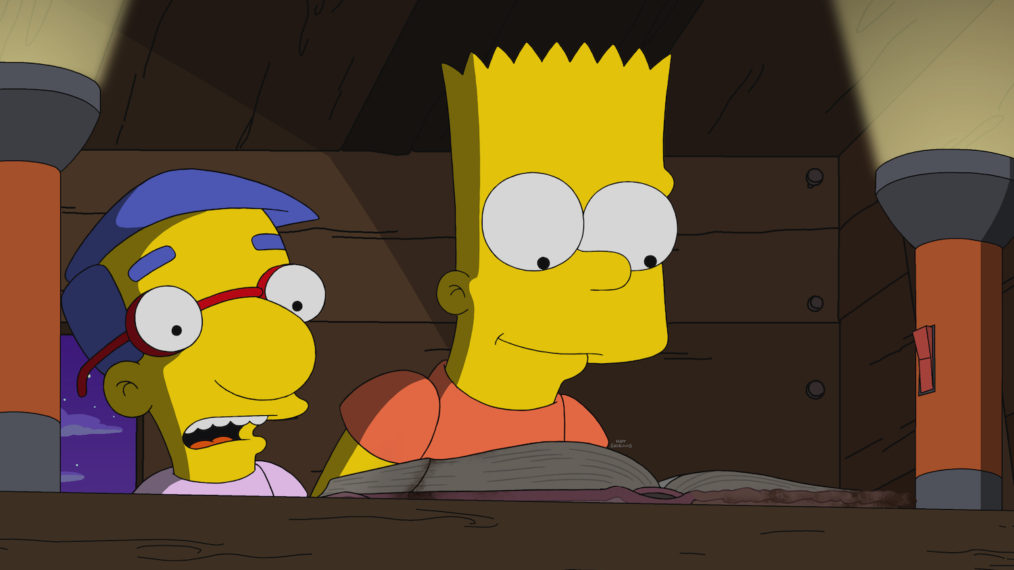 The Simpsons
SUNDAY: Just as several generations can't imagine a TV universe without The Simpsons, continuing into its 34th season with no end in sight, it's hard to picture The Simpsons without its gleefully unrepentant delinquent, Bart. But the brat's latest prank at school sends parents Marge and Homer into a dream reverie, imagining a world in which he was never their son. Kerry Washington returns as the voice of fourth-grade teacher Miss Peyton.
Nickelodeon Kids Choice Awards
SATURDAY: The kids have voted, so it's time to open the slime floodgates upon a host of celebrities in a raucous awards ceremony airing live from L.A.'s Microsoft Theater. Adam Sandler receives the inaugural King of Comedy Award, having won 10 orange blimps in the past for his comedy films and animated voice work. (The new title comes with a prestigious Silver Blimp.) CBS Sports analyst Nate Burleson and digital superstar Charli D'Amelio are the hosts, with Bebe Rexha the headline performer.
The Company You Keep
SUNDAY: Luke Kirby (Emmy winner as Lenny Bruce on The Marvelous Mrs. Maisel) guests as Jones Malone, a fellow con man on the promising new romantic caper drama. Jonesy is well known to the Nicoletti family, and when he tries to enlist them to swindle a rich lady he's been romancing, Charlie (Milo Ventimiglia) and his band of Robin Hoods decide to turn the tables on the creep. Off duty, Charlie's romance with covert CIA agent Emma (Catherine Haena Kim) is apparently getting serious, when he decides to introduce her to the rest of the family—including skeptical sister Birdie (Sarah Wayne Callies), who suspects this rebound relationship won't end well. Even Charlie confesses, "There's no way she'd stick around if she knew the truth." Probably works both ways in this extreme case of deception.
INSIDE WEEKEND TV:
Act Your Age (Saturday, 8/7c, Bounce): Comedy pros Kym Whitley, Tisha Campbell and Yvette Nicole Brown star in a sitcom as 50-something women in the D.C./Northern Virginia area who bond as each face personal and professional crossroads.
Black Girl Missing (Saturday, 8/7c, Lifetime): Garcelle Beauvais stars and is executive producer of a topical mystery sharing a similar theme with the Apple TV+ drama Truth Be Told and ABC's Alaska Daily. She's Cheryl, a Black mother who learns after her daughter's disappearance of the racial disparity in law enforcement and the media regarding how much more attention is paid to missing white girls. A Beyond the Headlines companion documentary follows.
Frozen Planet (Saturday, 8/7c, BBC America): The nature series' season finale, addressing the precarious environmental state of so many of our frigid climes, is followed by a "Making of" special at 9:25/8:25c.
Say Yes to the Dress (Saturday, 8/7c, TLC): In the season premiere, Randy Fenoli and the gown runners at NYC's 30,000-square-foot Kleinfeld Bridal boutique tend to new brides-to-be, including Ashley, seeking a gown that frees her legs to move because she is unable to use her arms.
Saturday Night Live (Saturday, 11:30/10:30c, 8:30 pm/PT, NBC): Winning Super Bowl QB and MVP Patrick Mahomes may have gone to Disneyland, but it's celebrated Kansas City Chiefs tight end Travis Kelce who got the nod to host SNL. (Will his brother, Eagles center Jason, show up for a cameo?) Making her debut as musical guest: country music star Kelsea Ballerini.
Be My Guest with Ina Garten (Sunday, 11:30 am/10:30c, Food Network): The beloved Barefoot Contessa invites famous friends to her East Hampton, NY, home for food and drink in new episodes, starting with barrier-breaking ballerina Misty Copeland, who enjoys some herbed ricotta bruschetta washed down with a Kir Royale.
60 Minutes (Sunday, 7/6c, CBS): Scott Pelley interviews three female Ukrainian soldiers recently released as Russian POWs. Lesley Stahl tackles the controversial subject of AI-powered chatbots, and Anderson Cooper profiles musician David Byrne.
Glitch: The Rise & Fall of HQ Trivia (Sunday, 9/8c, CNN): Here's a trivia question: How did live game app HQ Trivia, a 2018 cultural phenom with millions of players competing for cash, crash and burn in 2020? The answer has something to do with feuding founders, big-money imitators and continuous tech problems, as a fast-paced doc reveals.
The Curse of Lizzie Borden (Sunday, 9/8c, Travel Channel): A two-hour "Shock Docs" special explores the legendary "murder house" in Fall River, Massachusetts to question whether a family curse led to the infamous axe murders and to exorcise the home of Lizzie Borden's presumed ghost.
SWV & XSCAPE: The Queens of R&B (Sunday, 9:30/8:30c, Bravo): The rival R&B girl groups collaborate in a six-part docuseries building toward a one-night-only joint concert.
NCIS: Los Angeles (Sunday, 10/9c, CBS): Callen (Chris O'Donnell) and Anna (Bar Paly) begin their wedding planning. Do they know Say Yes to the Dress is back with new episodes?